Modern industrial plants should  be certainly performing, but this is not enough.
They should incorporate various process controls to ensure the final product quality thus to realize and monitor flows and operations.
These latter variables and all generated data are collected and managed by  computer systems  that are the "real  heart,  intelligence" of modern automations.
Electronics and IT then give a "soul" to mechanics, robotics, automation with interactive driving capabilities too such as cameras, artificial vision, various algorithms.
There is a very delicate aspect to underline: the communication between the machine and men. We can deal with an operator who is technically very well trained, but likely he\she will still be human, then far away from a "machine" and its structure.
That is why the link between these two realities is a very crucial point when we consider the design and implementation of automations.
The acronym HMI-Human Machine Interface- summarizes what we have so far talked about: it shows the intersection between two areas that are anything but homogeneous. One part is based on mathematical rules and the other one on senses, feelings, emotions, fantasy.
We in Sinergo are aware about this kind of need: that is why we try everyday to give "a face" to our automations. We take into account various aspects of the communication that has to be between a human being and a machine: many and large displays, essential graphics with not too bright tones, synthetic and intelligible messages, control panels with few buttons and so on…all this to enable an easier understanding, governing of  "the relationship".
We often collaborate with our Customers about the design interface and machines automations. Better, we collaborate with those operators who will use them at our Customers' Companies.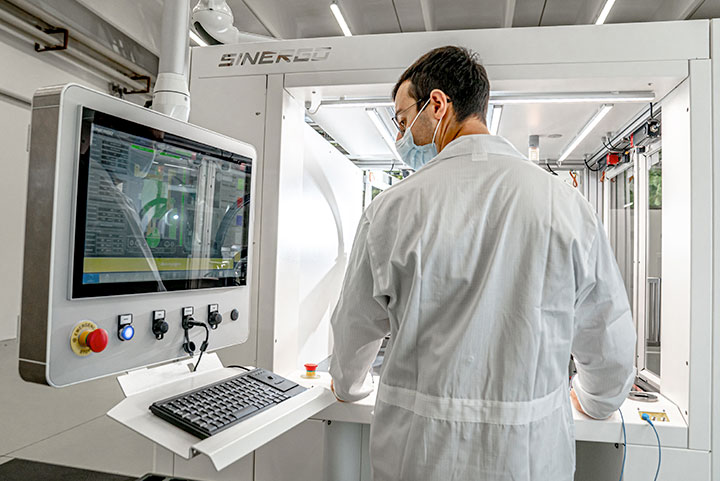 Doing so we look for mediation between the world "man" and "machine". Understanding and communication, both local and remote ( Industry 4.0 )  become as easy as possible, the most intuitive and the least tiring.
Moreover another remarkable effort is made by Sinergo: to let homogeneous the interfaces of the various subsystems integrated in the machines and in the automatic lines.
It is our concern to create one and only one interface for the operator that allows the control of the entire plant but at the same time of each individual subsystem. To do this Sinergo develops the functional and software integration of the various vision sensors, cameras, scales, dosing, load cells, test systems, robotics, and other elements summing up all commands in a single graphical and functional HMI interface, including integration of videos, images, photos, and commands for robots and actuators.
In this way the operator can really cope with a "face to face" system to be conducted and understood at best and governing it easily and with little effort
Within the industrial environment HMI can be of different types: they can be screens, a control panel inserted in another system or a laptop. The aim is to allow users to view data on production processes and control the plant itself.
For example operators can use an HMI to check which welding heads are on or to adjust the temperature; to check whether the pallets in the conveyor belt are aligned. The more complex the plant is the more sophisticated the HMI are or the system in which they are applied to.
With an HMI tool it is possible from a single place to receive all data about the machine's performance, thus have an overview of the operations, the system and manage quickly the alarms.
For example, using  a SCADA system  (Supervisory Control And Data Acquisition) to deal with necessary controllers (Plcs) and other sensors, the information can be displayed on an HMI tool through an image or other graphic charts to read and understand them in an easy way.
The HMI are used too to control the plants and increase their productivity or adapt it to individual needs. You can make changes based on the data you receive and to adjust all details from the monitor, thus the whole process is at the end quick and possible for any operator.
Which are the benefits of this kind of technology?
Better visibility, greater efficiency, almost non-existent downtime, ease of use, the ability to control all machineries with the same system. In addition, users will be able to use HMI to monitor automated activities and adjust their production needs.